8/19/17

2017 Solar Eclipse in Madras Oregon

Lauren and I have had this trip on the calendar for months. Back in June I reserved a camping spot at Madras for $225.00. Kind of spendy for airplane camping but I really wanted a sure thing for the eclipse. Madras is smack dab in the middle of the path of totallity and you can usually count on good weather in Eastern Oregon.





This was Lauren's first camping trip with me in the airplane and she seemed pretty excited.





Takeoff video...





Madras had booked over 400 airplanes for the event. So many that they set temporary control tower and they required sceduled arrivals. They only accepted arrivals if you were on the list. We had a planned arrival time of 6:03pm on Saturday. Darin was 6:06pm and Chad was 6:09pm. The flight down was only sceduled to be about an hour and 20 minutes but we left a tad early to be sure. We figured we could loiter a little if necessary.





We ended up with a nice tailwind and had time to fly over the gorge to The Dalles before turning South.





Here is the special arrival procedure. We chose to enter on the Southwest side so COVE was our first fix.





Here is a video of it all...





We ended up parking pretty close to mid field. I'm guessing there were 125 or so airplanes here so far.





Inside one of the hangars they had vendors, a beer garden, and a band.





Outside they had 6 or 7 more vendors.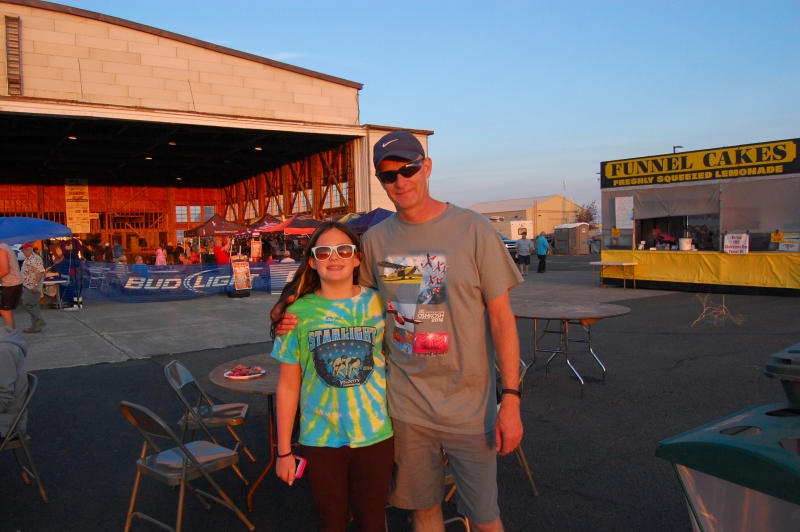 The sunsets in central Oregon are always spectacular but this year the forest fires really brought out the orange.




Sunday morning.





Here is the temporary control tower...





Today we decided to check out some of other attractions around. Specifically Solarfest and Solartown. (Both big eclipse events.) For $7 you could buy a bracelet and ride the shuttle all day. They specifically set up 5 lines (or routes) in and around town to and from the main events. There was a wait for the bus and they were packed.





The bus took all the backroads even cutting through a field at one point.





We decided just to stay on the bus through Solarfest as there were lines forming to get back on.





Tons of people camping here...





We hopped off the bus at one of the stops near town and planned to walk to mexican food for lunch.





Lot's of traffic both ways through town with everybody showing up for the big day tomorrow.





The mexican restaurant we walked to ended up being closed on Sunday so I talked Darin and Lauren into this place. I was pretty stoked because I knew it would be authentic and I'd get to practice a little Spanish.





The mother who cooked for us didn't speak any english but her husband and children did.





The food was spectacular. Definately at least equal to the best Mexican food I've had. (And I'm not just saying that because I talked Lauren and Darin into this hole in the wall.)





After lunch we walked a block or so back to our secret "no wait" shuttle stop and got on the bus.





We decided to get off the bus at the airport and then just Lauren and I would walk over to Solar town a little later. By the time we got back it was really starting to fill up with airplanes.





A little later Lauren and I walked to Solartown. It would have been a pretty long walk on the road but we were able to cut diagonally across this big field. (I'm guessing in total it was about a mile.)





Solartown ahead





Lot's of vendors set up over here.





We decided to walk up one row and back on another to check out all the campers.





Madras had even called in the National Guard to help with the mass arrival of people into the area.





Back at the airport the food vendor lines definately reflected how many more people showed up today.





Another gorgeous sunset, what could be better??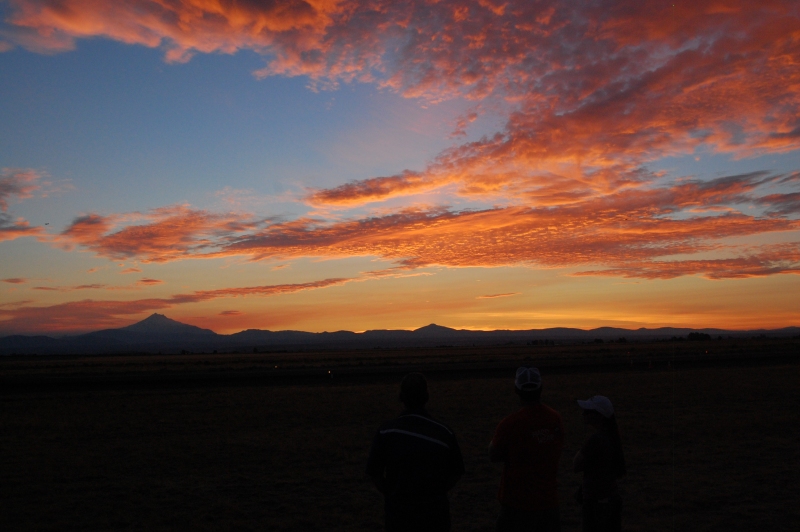 How about a P-38, P-40, P-51, Corsair, and P-47 arrival with an overhead break!!!! Hell ya!!!!





Monday morning at about 5:15am we were abruptly awaken by this Gulfstream using full thrust reversers not 150' from our tent. Holy cow, it scared the crap out of me. Pretty cool alarm clock though. :)





For the next 5 hours or so, right up till the eclipse, all the heavy metal showed up. I'm guessing 50 or so big planes worth big bucks.





Our eclipse video...





I got this one picture with my Nikon that turned out decent. This is a better representation than the video of what the eclipse actaully looked like.





They started departures at 11am and the lines were long. Single engine guys were firing up everywhere in no particular order and pulling out onto the taxiways. We were timing from when they passed our camp spot to when they took off and the wait times started around 45 minutes and by 2:00P were two hours. I timed a Caravan that taxied for 2 hours and 15 minutes, running the whole time. (burning about 15 gal per hour) We just relaxed in the shade and watched it all. No way I'm going run my engine that long in the heat. About 4:20PM the line finally dwindled to nothing so we fired up and took off with no delay. Got a nice tailwind at 10,500ft and made it home in 1 hour and 10 minutes.





Lots of traffic heading North out of town...




Pretty smokey all the way up to about 10,000ft.





Wow what an experience! I'm not great at relaying feelings but I thought Erik's comments summed the eclipse up perfectly. (Erik flies a Bonanza and we've camped with him a few times at Alvord and now here.)

"It was absolutely unbelievable.  I haven't stopped thinking about it or talking about it.  If you haven't been in totality, it's hard to describe.  You can describe the physical views, but for many, I think it just does something in your brain you can't ever describe exactly.  In all honesty, it was one of the most amazing things I have seen in my life. We were discussing that it may be as you get older, you have sort of seen it all.  There aren't really any indescribable things left to see.  Perhaps seeing something so, so different and out of this world triggers something in our brains that hasn't been active since we were children?  I know for me and my family it was unexpectedly emotional and impactful.


Back