3/18/16

Flew to Canada!

Darin is getting his airplane painted in Chilliwack, BC and I've been planning to fly him up.

There are quite a few hoops to jump through to fly internationally these days so I started the process a couple of months ago. In no particular order I had to...

Renew my Passport
Register and get a CBP (Customs and Border Patrol) User Fee Decal for the Airplane
Get an FCC Radio Station License for the Aircraft (Required when transmitting to a foreign government)
Get and FCC Restricted Radiotelephone Operator's Permit
Get an eAPIS account (Electronic Advance Passenger Information System)

Well today was the big day so Darin and I met for breakfast to finalize the details, file our flight plans, create new "Notice of Departures" and traveler manifests with eAPIS, and call 1-888-CAN-PASS to inform Canadian Customs. Doesn't sound like much but it was kind of a pain, particularly the eAPIS website. We managed to get it all done and met our wheels up goal of 9am.




It looks like a beautiful day but it was very turbulant. We got rocked pretty good climbing up to 4500ft. Fortunately it smoothed out a bit the further North we got.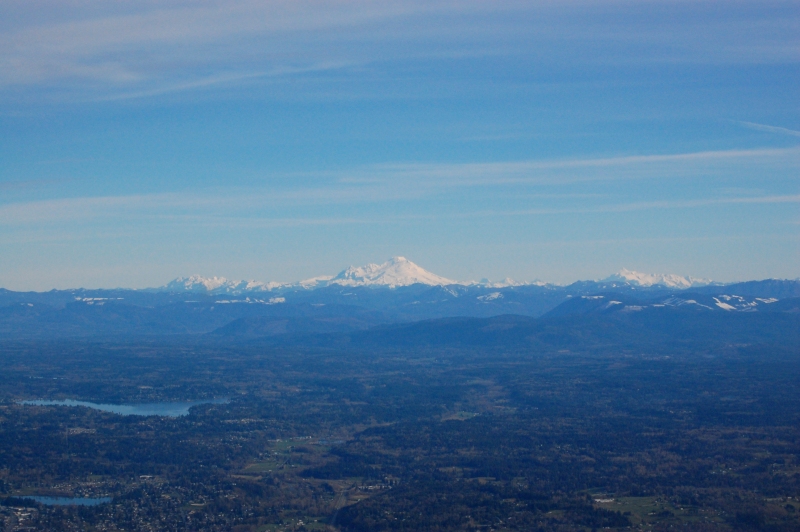 Starting our descent over the foothills just Southeast of Bellingham.




Abbotsford Airport is right over the border just Northeast of Lynden, WA.




Tower had us enter the pattern on right base for runway 7. The wind was pretty strong out of the east but it made for an easy short landing.




After landing Ground Control had us taxi to the customs area. Before getting out of the airplane you have to call 1-888-CANPASS and tell them you've arrived. After asking if you have anything to declare, alcohol, tabacco, weapons, etc, they give you an arrival number and let you go. I guess sometimes they do send someone out but they didn't today.

Afterward we walked into this Shell AeroCentre to use the bathroom. As we opened the door we saw sign that said something along the lines of "There is a ramp charge for restroom use." The one worker we saw inside said the same thing. I said "Well I guess we'll hold it till Chilliwack". The worker said "Just go ahead, hurry though, because the other guy who's on his way back will charge you."




Nice bathroom but not really worthy of a ramp charge.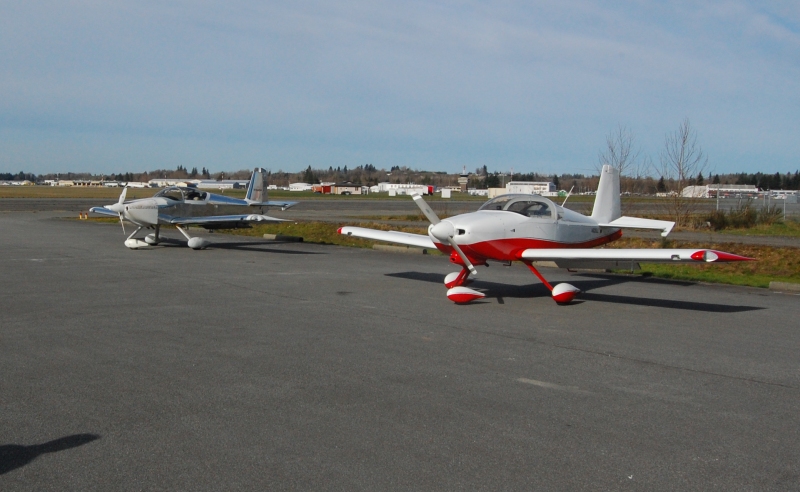 Ten minutes later we were off and on our way to Chilliwack.




Here is the Chilliwack Airport. It is only about 23 miles to the Northeast of Abottsford.




And here is the paint shop!




It was still pretty windy out of the east so I turned my plane into the wind, chocked the tires, and installed my gust locks.




We had to do a couple things to Greg's airplane before we could move it to make room for Darin's. They originally were going to move it outside but decided to move a Mooney out instead. Their crew took a lunch break so we did too. After lunch I wanted to get the flight planning stuff out of the way. By the time I was done Darin was already off to a great start taking apart his airplane.




We had to safety wire tags to each one of Darin's parts so they couldn't accidently end up in someone else's pile.




Once we were finished Darin and the foreman walked the airplane.




Here is Greg's RV-9/A that they just painted. Greg is in our EAA chapter.




Well it ended up being a ton of work but we managed to get done at 3:05P. With a planned 3:30 departure it worked out just about perfect.




Hold the phone, not so fast. During my preflight I noticed a fair amount of oil on the belly of the airplane. That's not good! At first it was hard to tell where it was coming from but then we determined it had to be coming from the oil cooler. Oh great! We checked the fittings, cleaned up all the oil, then ran it again without the cowl. Sure enough a drip formed under the cooler and then fell on the ground. Apparently the cooler was cracked on one of the oil passages inside the cooler. Well it sounds like we might be driving home.




I went ahead and called NavCanada and US Customs and Border Patrol and informed them that we needed to change our departure and arrival to 2 hours later. If we couldn't find another oil cooler we'd just call back and cancel the flight all together.




Well we got real lucky. The FBO that is painting Darin's airplane managed to find a used cooler they had recently removed from a Piper during an engine replacement. It was the same size! Although they said the airplane it was removed from was fine, we decided it would be a good idea to run some new oil through the cooler just to verify it wasn't full of metal or something. We poured oil through the cooler and then into a clean shop rag to act as a screen. Everything looked great so after a few modifications to the mounting flanges, we got it installed on my airplane. After topping off the oil we ran the engine again to check for leaks. Nothing. Sweet!!! We re-cowled the plane and took off at 5:35P, just 5 minutes late.




Just Northeast of Renton, Seattle approach asked us if we'd like a vector through the Class B. I said "Yes please!"

This is Renton Airport...




and here is SeaTac.




We landed at Tacoma Narrows on time and did Customs there. 15 minutes later we flew back to Pierce County where Harry was waiting with cold beer. We both really needed a couple of beers, wow what a day!



We learned a lot this trip about the whole international process and look forward to doing it all again in a month or so when Darin's airplane is ready.


Back